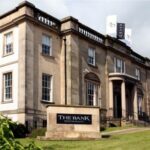 How refreshing to find a business adapting to fit established surroundings within a prominent and architecturally, fabulous building.
The Adamo Hotel in Stirling has done just that, locating in the commanding former bank, this structure has not merely fallen into disrepair but been fantastically and sympathetically remodelled into a refined and elegant restaurant with rooms.
Speaking with local people, the Adamo has created a vibrancy surrounding the name and built a reputation on superb food and popular cocktails, however the Adamo is so much more with seven fabulously spacious bedrooms, structured from the Bank's former office space upstairs.
Certainly not cluttered, the rooms concentrate on practical necessity whilst creating a wonderfully ambient and luxurious aura within a deep coloured decor and plush soft furnishings. Comforting it is to find a design maximising and utilising the space, height and light within an existing building and resisting the temptation to follow an understandable compulsion to change for financial gain.
The same premise pervades the public areas; both upstairs and down; with expansive hallways, clean lines and minimalist, luxurious, comfort.
The restaurant and bar area, on arrival, abates the formality of a reception desk and offers a superb space to relax, meet friends and enjoy vast offerings from the food and bar menu. The pace is leisurely, the seating extremely comfortable and the booths offer a little private space for intimate gatherings or a quiet read of the paper over a coffee.
The aptly named Bank Restaurant capitalises beautifully on seasonal Scottish produce and presents adaptable and refreshingly different dishes with belief and flair.
With an exquisite range of cocktails, carefully selected wine range and a resident pianist the Adamo has justifiably developed an exceptional reputation locally, however it is, for me, the staff who stand out; endlessly presenting a professional and friendly front to this establishment; quietly striving and succeeding in offering exceptional customer service to everyone who crosses the grand, stone pillared entrance and exceeding in this aim – a special mention must be made of them.
Hopefully the Adamo is a taste of things to come in Stirling and others shall follow in their firmly set path, creating a buzz about the city once again and drawing a wider ranging clientele to a deserving area of Scotland.