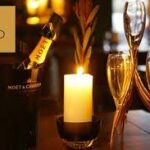 Leith's ongoing redevelopment and refurbishment is not least of all evident within Bond No9 on Edinburgh's lengthy Commercial Street.
The row of refurbished shops, restaurants, offices and flats retains the character of the former whisky bond building and assumes the personality of an assortment of trendy visits, buzzing with life and character.
Bond No9's heritage is indisputable within the interior, entered from a frontage on Commercial Street or the cobbles of Dock Place; low beamed ceilings, warming wood and leather and a convivial atmosphere, blend to greet visitors to a home from home gathering, within one of the city's most ancient areas.
An eclectic clientele, make themselves comfortable to eat or drink and socialise ; the buzz is comforting and cosy, edgy and very unique; almost as if the opposing entrances bring in Bond No.9 devotees from different worlds.
Easy and natural divides have formed niches to pass time in the bar or varying satellite areas, perfect for a private gathering; the emphasis is on relaxed informal; a diversification of tastes brought together in one, rather different venue.
Defying the norm, Bond No.9 present a culture of anything is doable – reflected in the diversity of their offers; movie nights, boutique days, photography club and champagne by the glass – divine!
The extensive drinks list must be mentioned; all the classics, plus special in-house cocktails and a few kooky, unconventional gestures to satisfy everyone's thirst and curiosity.
A very real history pervades Bond No.9 – palpable in its very being yet contradicted by its diverse, modern day audience.