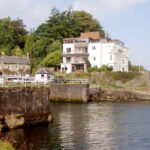 The unassuming Crinan Hotel perches on the shore of the tiny village of Crinan, at the north end of the Crinan Canal, mid-Argyllshire.
A haven and port for sailors, holidaymakers and in particular, lovers of seafood, as the hotel houses an award winning seafood restaurant serving the very best of Scottish produce and the freshest of shellfish, directly from the sea. Coupled with an excellent reputation for fine wine and welcoming hospitality, a warm ambience and extremely relaxing stay is certain.
Individually designed rooms with thoughtful and personal touches, typically local luxurious additions and the most breathtaking views set the Crinan well apart from comparably rated mass produced chain hotels.
So simple it is to become embroiled in local life, the feeling of never wishing to part is inevitable. To create an indescribably welcoming atmosphere is something which cannot be bought but a gift, elusive to most, inherent in an experience – that exists at Crinan.