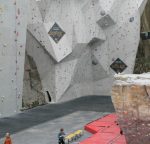 THE perfect venue for the ultimate adrenaline rush; energetic activity for the entire family; as long as heights don't scare you off!
The EICA, situated just outside Edinburgh's western fringes in an old quarry provides a spectacular venue for indoor climbing activities, outdoor adventures and ideally suited for conference days and teambuilding activities.
Our concentration for the day was on the Aerial Assault – 100 ft above the main arena with literally a birdseye view of the bustle of activity (a long way) below. Kitted with safety harnesses, the assault begins with a huge leap of faith from a zip slide to begin the high altitude, mid-air assault course over, round, through and under various well placed obstacles, all seemingly suspended from the glass roof.
Armed with an initial modicum of trepidation, you shall undoubtedly complete the assault, not only filled with pride and a sense of achievement but a longing to progress to the next challenge.
Qualified instructors genuinely love what they do here, as is apparent from their enthusiasm and honest eagerness to assist and enthuse others.
A welcoming and relaxed atmosphere pervades the highest walls and the surroundings are refreshingly open and airy from reception, through the various offices, shops, spa and dining areas.
A true find in the depths of Ratho, where time can be spent with family, a group of friends, business colleagues and workmates; it is guaranteed everyone shall depart exhilarated.