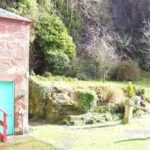 Secreted away behind a handsome, rich red sandstone house, typical of the area, is a former stable block, completely restored and now known as Ferniecraig Cottage.
The two year labour of love Joy and Roger Sykes have invested in the building is apparent from the outset, with little personal touches and intense attention to detail throughout. The restoration project, although vast, has not deterred from the endearing peculiarities of the property which has maintained its character and stands it apart from stereotypical holiday cottages.
Thoughtful and practical nuances reflect the fact that their hearts have gone into this project with considered additions like umbrellas for rainy days (not uncommon in Scotland), a mixture of miniature toiletries and a selection of games and DVDs. The decor reflects the owners own tastes, with matching accessories and a well thought out and fully equipped, bright kitchen and dining area, maximising on space and the beautiful watery vista across the Firth of Clyde to Argyll and the Isles beyond.
The cottage offers a personal space and reflects a true home from home; a well stocked library of books, hand-crafted pieces of furniture and fresh flowers were all welcome additions for us.
Outside, an interesting adventure for children, who can explore the caves which form the backdrop of the garden and are hewn out of the rock face, around which, Skelmorlie has grown. The gardens reach down as far as the road and waterfront, where the ever changing view of passing boats and ferries, presents endless enjoyment and relaxation.
Ferniecraig offers ideal accommodation for families wishing to spend time exploring Glasgow, Loch Lomond, Largs and the Islands from a peaceful and semi-rural retreat, where personally involved and genuinely caring proprietors affords Ferniecraig that elusive final touch which differentiates between a holiday house and a holiday home.