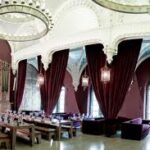 Hot on the heels of being awarded "Best Small Venue", I visited Ghillie Dhu with extra high expectations for a fantastic ceilidh night. On arrival, the first thoughts were "could it ever have been anything else?", so fitting is the traditional building in the heart of Edinburgh's thriving West End for this unique and innovative addition to the city's social scene.
Deep in Scottish folklore, the Ghillie Dhu is a wild, dark but shy faerie who is most active at night, and, although its assumed namesake is open from midday; it undoubtedly, comes alive in the evening.
Entering Ghillie Dhu, the lighting is subdued and the stone staircase which sweeps off in both directions, leads either to a vast bar room, a hive of activity, with live music and a mix of cozy neuks and party tables, or the upstairs function suite, akin to a room from one of Scotland's oldest castles; stone, carvings and ancient artwork mixed with state of the art lighting and a stunning, room-length bar. All too easy, a room of such vast, unbroken proportions can become barren, cold and unfeeling; not so here; a party atmosphere pervades the top floor; the walls adorned with carvings, plush drapes and an organ! At one end of the room, the resident Ceilidh Band – fantastic not only in their music but their endless patience with budding and very eager dancers!
The emphasis is on party; Ghillie Dhu hosts Live Acts, dinners, theme evenings and is also becoming a popular wedding venue, no doubt, not least of all due to the impressive and adaptable surroundings.
Strengthening their brand and probably their loyal following; Ghillie Dhu have their own resident ale, the Ghillie Ale is Ghillie Dhu's very own cask conditioned Craft Beer specially brewed for them by the award winning Inveralmond Brewery, Perth; and apparently very good!
Anyone would be hard challenged, not to be carried on the waves of atmosphere within Ghillie Dhu; warm, welcoming, fun and stunning; if you are searching for a party venue with a range of attractions and live entertainment, then you shan't fail to be impressed by Ghillie Dhu – it shall meet your expectations with fairy lights and surpass them with more.