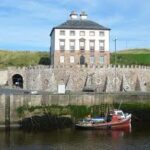 With Halloween fast approaching, guising for me this year adopted the mask of a visit to Gunsgreen House, the John Adam built Edwardian mansion, which steadfastly guards the harbour at Eyemouth and has become an easily identifiable landmark, associated with the East Coast fishing town.
The Murder Mystery evening I would be attending carried additionally notable significance; reported hauntings by smugglers and ne'er-do-wells, purported to have spooked the town's most staunch disbelievers; but would I be tricked or treated?
The "House of Secrets" as it has become known, seemed a suitably apt place to mark the annual event of Halloween, having a rather sordid passed steeped in stories of illegal smuggling by locals John and David Nisbet, around 250 year ago. Gunsgreen was adapted to accommodate their profitable trade, with extensive, gloomy cellars leading direct to the sea, designed to receive illegal and dangerous, although hugely profitable, overseas deliveries such as brandy, tobacco and tea.
During recent restorations, various "secret" tea chutes were uncovered and preserved, forming part of the discovery at Gunsgreen which adopts a highly successful interactive approach to their house tours, uncovering the history of the building embodied in various restored rooms throughout the House and within eerily atmospheric cellars.
A surprisingly warm ambience, however, pervaded Gunsgreen upon our arrival on a dark and windy evening, as we were greeted with a sherry and a rather varying array of "visitors" , which of whom, we attempted to figure out were in fact guests and who were actors, employed to play a part in the evening's unsavoury activities.
As folks eyed each other suspiciously we were welcomed and introduced to the performers in this most unlikely of plays; each room forming another stage set; and literally embroiled with characters ranging from comedy to seriously unhinged!
Superbly set with apt characters and having the advantage of a fantastically historic house, the Murder Mystery used to full benefit, the varying rooms of the house and afforded guests an interesting twist on an interactive tour, concluding with a victim and a murderer exposed!