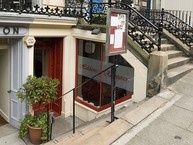 Haldanes Restaurant, located in a basement of Edinburgh's Georgian New Town, is probably not somewhere you would accidentally stumble upon; so, from recommendation, a special dinner date was reserved at the Dundas Street haunt of the acquainted few; as it would prove to feel.
A welcoming locale where the obviously knowledgeable and experienced staff strive, uncompromisingly to create an experience, illicit yet relaxed and comfortable, so rarely found. Perhaps the feeling of having discovered a gem which no one else knows about is common here, however nonetheless special.
Haldane's itself is intimate with a feeling of exclusivity, where the supreme levels of service include informed and unobtrusive recommendations from the extensive wine list and educated opinion on the impressive menu – our choices were to prove flawless and extremely pleasing.
Managing to savour the experience over several delicious hours and with a vow to return, this restaurant offers elegant dining as it should be – unostentatious, yet exuding indulgence, offering a dining experience to be remembered.