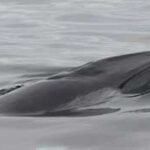 There is no more suited activity to this north-west corner of Scotland than one which exploits the fantastically rugged coastline, fabulous views and abundance of seafaring wildlife, including the stunning minke whale.
Hebridean Whale Cruises offers inshore wildlife cruises around Loch Gairloch and the only operator in the area who also offer offshore trips into the North Minch, to the deep feeding grounds of dolphins and whales.
Opting for possibly the more adventurous of the trips, we boarded ORCA 1, a 12 man RHIB, dressed in floatation suits and armed with binoculars and high expectations of seeing one of nature's lesser seen creatures, 23 miles off the coast in the midst of a recognised hotspot.
Our guide gave a short intro and safety briefing and we were off, reliably informed that the whales were in fact feeding and visible off the Shiant Isles.
The day was beautiful, the sea calm as we motored out of the harbour, stopping sporadically to take advantage of a wildlife or scenery photo opportunity; a vast and stunning selection of seabirds followed our route, including a young puffin which watched our progress through its home waters.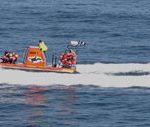 Porpoise and dolphins guided our journey, which offered awe-inspiring satisfaction, however, patience and a keen eye rewarded us with a relatively close and breathtaking discovery and sighting of the beautiful Minke, surfacing to feed.
Feeling utterly privileged to view these creatures at close quarters, within their natural habitat, we turned again for the distant coastline and the shallower waters of the bay, where seals seemed to await our return, heads bobbing atop the surface water.
What a wonderful experience, completely underestimated and thoroughly rewarding.