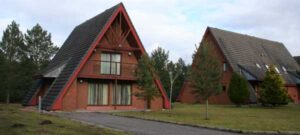 This place really ticks all the boxes for a relaxing but activity packed holiday in the heart of the Highlands. Somewhere which manages to cater fully for children at the same time, offering exclusive grown up areas, takes the prize in my book.
Our lodge, Scandinavian in appearance, is our luxurious haven where we spend a week, at least once in the year, literally, taking each day as it comes. The only plan to be made is deciding on the day to day varied activities on offer for the children; ranging from treasure hunts and animal trails, taking full advantage of the beautiful surrounding countryside; to magic shows and swimming fun sessions – all supervised and offering time to nip off for some après ski in the Woodshed Bar where a welcoming log fire usually awaits.
Friends and family have joined us on more than one occasion with enough beds to sleep everyone with ease and the large open plan spaces making day to day living extremely comfortable even with the rising numbers each year!
Provisions are usually obtained from Aviemore and Rothiemurchus where there is a wonderful deli which offers up such a vast selection; a good half day is spent here making decisions over coffee and cake and when the day of walking, riding, ski-ing, sleeping, reading is done there are always plenty of options within walking distance of the lodge for dinner or a late night supper.
Comfort and relaxation – tick, children happy – tick, dog happy – tick, fine wine and good food – tick!