Guest review; with thanks to Michael Hamilton
If you were friends of Godfrey Macdonald – 8th Baron Macdonald of Sleat and his wife Lady Claire – more than 50 years ago, chances are you'd have been invited to their fabulous home Kinloch Lodge on the Isle of Skye.
Since 1972 they've been inviting paying guests to that home-turned-hotel. Now run by daughter Isabella, it's celebrating its golden anniversary this year and still retains the unique charm of that simple initial premise – heartfelt family hospitality.
Just getting there seems like an epic adventure, driving through dramatic Highlands scenery to finally reach Skye bridge.
Then it's a 10-mile drive to arrive at Kinloch Lodge overlooking Loch na Dal on the Sound of Sleat. It's a take-your-breath-away location – perched on the northern edge of that shimmering expanse of water, in the shadow of a majestic mountain.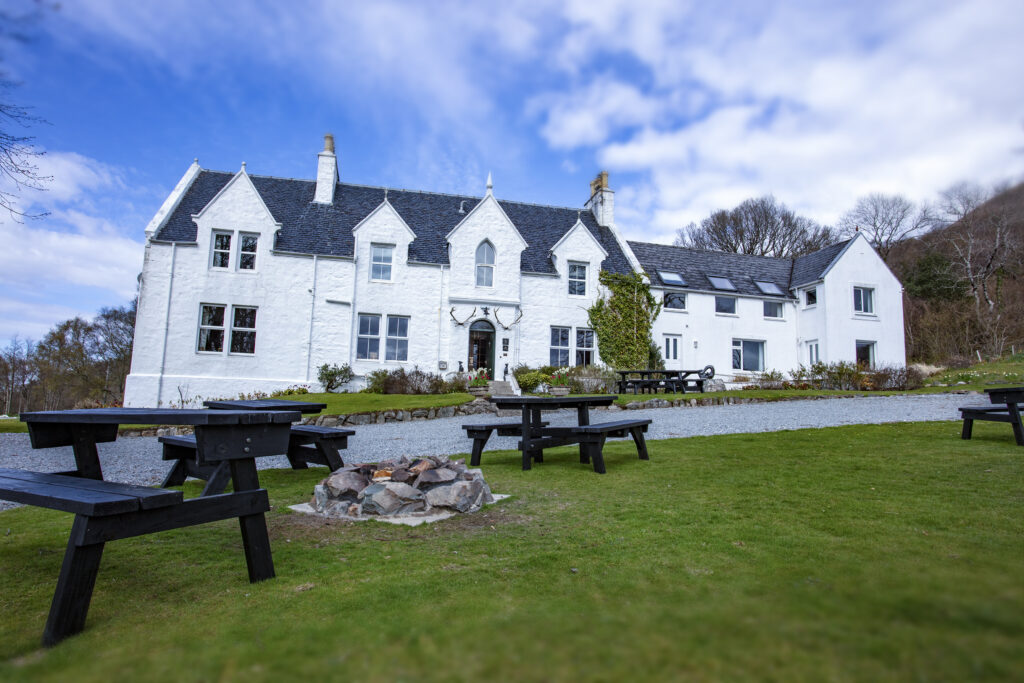 In the olden days, when the clans ruled, it was a hunting lodge. These days ghillie Mitchell Partridge runs programmes of organised outdoor pursuits including foraging, fishing, wild walks and clay pigeon shooting.  Didn't have time to try them last visit – definitely next time.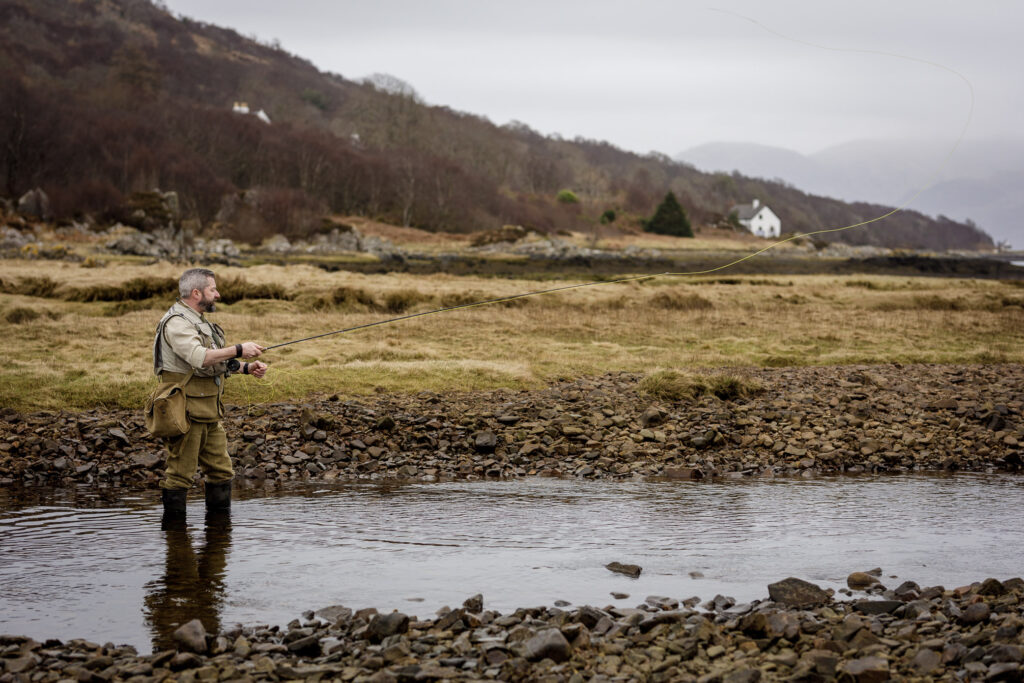 But if that all seems too hectic, a meander to the old abandoned 'black houses' township of Leitir Fura will certainly whip up an appetite for dinner.
Food informs your stay at Kinloch Lodge. From day one Claire – the author of 23 cookery books and responsible for putting Skye on the map as a foodie destination – pioneered using local ingredients.
Skye has a bountiful natural larder and it's showcased to stunning effect by current head chef Jordan Webb. He has had hard acts to follow in Lady Claire herself and formerly Marcello Tully.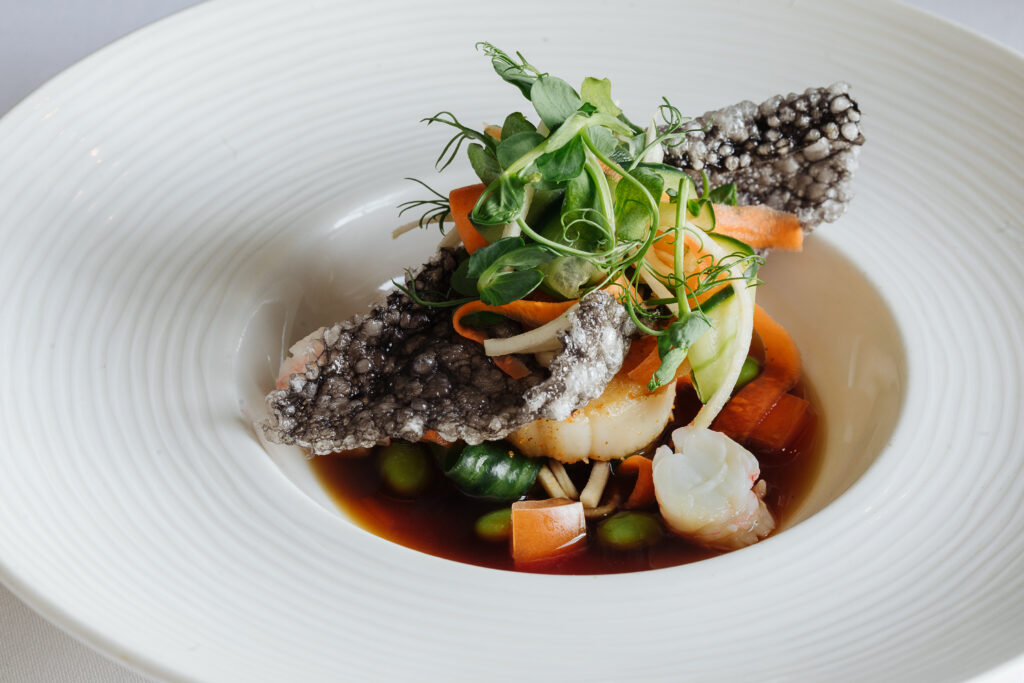 He does not disappoint. Multi-course tasting menus have been replaced by stripped-back offerings focusing on that winning recipe of locality and seasonality. Menus change daily. Fruit and veg comes from the kitchen garden, seafood includes Skye scallops, Lochalsh lobster and Portree monkfish.
The breakfasts are veritable feasts in themselves. Try the Scottish porridge, ultra creamy and spiced with nutmeg and cinnamon, followed by home-smoked salmon and scrambled eggs or a grill fit for a clan chief featuring locally-sourced bacon and black pudding.
Most rooms in the main North Lodge overlook the loch and are individually designed. Meanwhile the smaller South Lodge has its own homely lounge with roaring fire and honesty bar. Sit by the hearth and enjoy a dram – Talisker is the local malt.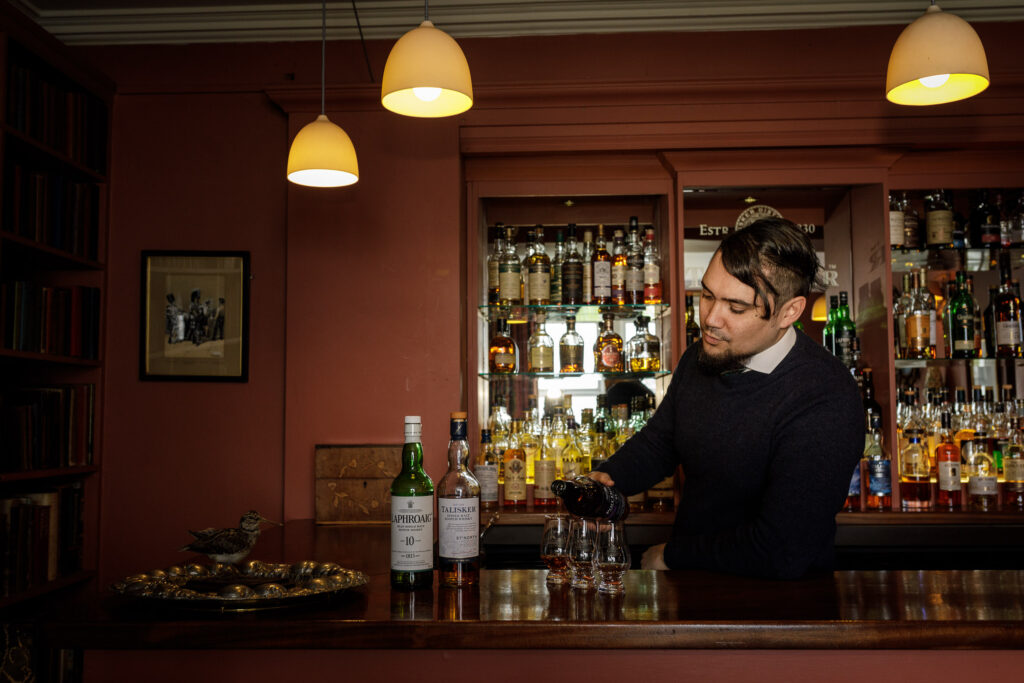 When bed beckons you will be greeted by crisp Egyptian cotton sheets and cosy goose-down duvets. The bedrooms feature old Macdonald-family portraits, antiques and memorabilia – as does the dining room – all of which embody that feeling of warm hospitality.
You may not be a personal family friend of the Macdonalds but you will certainly be made to feel like one. It's a hard place to leave.
Tel: 01471 833333
www.kinloch-lodge.co.uk
reservations@kinloch-lodge.co.uk