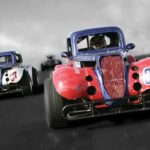 Perhaps a popular misconception amongst those less familiar with Scotland's National Motorsport Centre is that it is male territory – dominated by engine obsessed, grease covered…..men, however mistakenly so; with a convivial mix of adults and children, families, males AND females, seldom have I felt more at ease, if a little nervous even if it was immediately prior to undertaking my first laps of the world renowned circuit!
Host of large motorsport events, racing days, driving experiences and corporate team building amongst other, high adrenaline motor activities, Knockhill Racing Circuit situated a short distance from Dunfermline in Fife, manages to strike a perfect balance between hardcore motorsport and offering something for everyone.
My driving experience day was spent learning the basics and enjoying the thrill of a Ford Legend – I was not however on the track alone – my racing buddies were a Ferrari, a rally car and a motorbike in addition to the two other newbies who were sharing my day – I offered up no competition! Track instruction and rules are observed to the "T" with a full safety procedure prior to getting behind the wheel. The enthusiasm, patience and perseverance of the instructors enhances the enjoyment of the day, experiencing the thrills whilst benefitting fully from their expert instruction, encouragement and obvious expertise.
Whilst I didn't break any track records and was sadly a long way from even approaching to do so, the enjoyment of the experience was no less and I would recommend a day of any description at Knockhill to anyone; I indeed, have vowed to return in my own car for a few more circuits in something I DO know how to handle to regain some dignity and rise to a challenge which has now been set down!