These days, frustratingly few places fulfil expectations as regards service and presentation, however this cannot be said about Langside Farm in Ayrshire. On the hunt for a countryside bed and breakfast, close enough to allow us the opportunity to reach Largs easily in the morning, the only disappointing aspect of our stay at Langside was that the duration was not longer.
Greeted like family and welcomed into a traditional, characterful and immaculate home, we were shown into the sitting room to enjoy tea and cake in front of the open log fire, accompanied by Coco the poodle; chatting to the Quicks was both informal and informative.
On the point of being too relaxed, necessity took us upstairs to our wonderful bedroom where our bags had miraculously appeared – more akin to a four or five star hotel – taken up kindly by Nick. The panorama of the Ayrshire countryside from our room was quite spectacular and the array of very special toiletries and little extras provided a wonderful touch – luxury with practicality.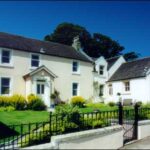 Feeling we should see more of the area in the short time allowed, we ventured out for dinner rather reluctantly, however, following an extremely comfortable and sound nights sleep, a typical country farmhouse breakfast was served downstairs. Enjoying breakfast in the kitchen, in good company served to enhance the whole farmhouse bed and breakfast experience, where we lingered for some time before departing for our ferry.
Quite simply, without being intrusive, Nick and Elise provided an experience seldom achieved by any accommodation provider, and succeeded in getting that elusive balance just right. Departing with a vow to be back – this is certainly one promise which shall not be broken.