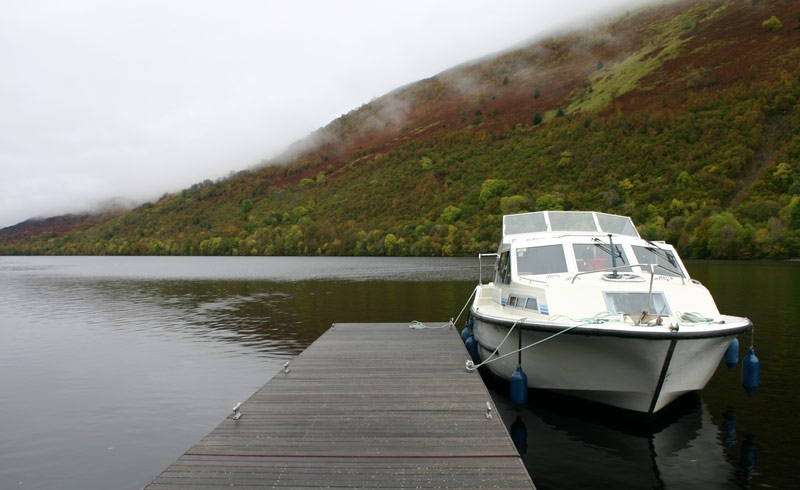 You could be mistaken for thinking you are in the wrong country for this particular blog, but such was the name of the company who offered us an unforgettable holiday, boating through the lochs of Scotland's Great Glen during a recent cold and sunny October week.
Armed with all the gear contained in the comprehensive advice sheet, plus two children, plus Scottie (dog), we arrived at the rendezvous near Laggan and on the shores of Loch Oich.
Expecting a lengthy driving lesson and form filling session, we were rather pleasantly surprised to find all the paperwork completed in advance, just requiring a signature and our "lesson", albeit thorough, very short and sweet, leaving time for lunch prior to departure.
Keen to establish our sea legs, we quickly found the Eagle Barge, apparently the only floating pub on the Caledonian Canal, where we were all welcomed (including dog) by the congenial host and owner of this fabulous vessel which is also their home.
Replenished and ready to take to the water in our own home for the week, we set off with our schedule to head south through Loch Lochy to Fort William not totally knowing what distances we could cover in the timescale allowed and an underlying stress as to how we would manage the various locks en route.
Bouyed by the helpfulness and generosity of lock keepers, hoteliers and other families making the lochs their holiday, we quickly found the ropes and adapted to life onboard.
Our two cabins were comfortable and spacious enough and once we had mastered the flushing of the (two) toilets, felt like experienced sailors! The actual driving of the boat, mooring and negotiating locks was relatively simple and straightforward, abiding by a few safety regulations of the waterways and there was an abundance of places to moor up and take a walk or cycle or stop for lunch or a late afternoon Gin and Tonic.
Although small, the galley presented no major problems with regard to preparing meals and with the rare October sunshine, we were even able to enjoy meals on the deck and picnics on secluded beaches along the way.
Indeed, we made the journey easily from Laggan to Gairlochy (my favourite) for overnight then on to Fort William to stock up on some provisions (wine). The return journey via Laggan in the opposite direction through Loch Oich to Fort Augustus and on to Loch Ness proved to be just as enjoyable with our daily experiences still proving to be a novelty for all concerned.
Breathtaking scenery from a prime vantage point which words simply cannot do justice provided unwaivering pleasure and sound sleep which only fresh clean air can provide, amounted to a truly refreshing and relaxing break.