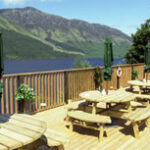 Just delightful, the Letterfinlay Lodge Hotel, boasts one of the most stunning locations I have come across. Although just off the main road, this traditionally styled hotel sits atop the banks of Loch Lochy with spectacular and changing views down the Great Glen.
The perfectly placed sundeck takes full advantage of the panoramic vista and offers an additional space for dining and enjoying drinks as the sun goes down, where the only passing traffic is of the water based variety.
Although, sadly, I didn't take the opportunity to stay overnight in this welcoming environment, I did manage to enjoy lunch on one occasion and drinks on the deck, on the other….
The restaurant staff were amongst the friendliest and most obliging I have come across, with easy conversation and no sign of forced pleasantries; they served a selection of locally sourced produce, freshly prepared and brought to the table with pride and a knowledge of each dish and it's history.
Simple food, magically prepared, lovingly served and with a view to boot – who could ask for more?