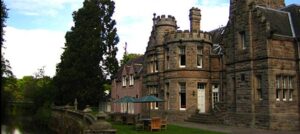 Part business but mostly recreation, a recent essential trip to the North-East of Scotland, found us staying in the Mansion House Hotel on the banks of the River Lossie, in Elgin.
A stunning, 19th century Baronial mansion, first impressions of the building and the extensive grounds were very positive and a welcome site at the end of a long day of travelling.
A warm, yet informal welcome and overall relaxed ambience of this classic country house hotel proved to be a surprising , although much appreciated, facet, where the staff seemed to genuinely take pleasure in their work and were only too happy to assist.
Bedrooms within the house are pleasingly of varying sizes and designs – attestation to the glorious mansion house architecture; our room was extremely large with giant size, traditional furniture and decorated in warm tones and with a very modern bathroom and gorgeous views over the extensive grounds.
The Mansion House Hotel truly succeeded in creating that elusive atmosphere so many hotels allude to; on returning again, if I ever do, I would imagine finding the same, endearingly genuine welcome and service, which forms part of the fabric of this country house hotel.