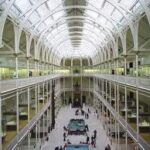 A free Sunday, for once void of any commitments; work or otherwise, debating what to do…solution: the newly re-opened National Museum of Scotland in Edinburgh's Chamber Street!
Time allotment sadly underestimated as we could have easily filled two full days and more within the walls (and nine floors as my daughter pointed out!) of the recently re-launched attraction.
Remaining (surprisingly) free of charge to enter, the museum relies on visitor donations, of which I would gladly give time and again for the sheer abundance of interesting displays and the museum's eternal ability to attract and hold the interest of a wide spectrum of ages.
Informed and helpful staff are on hand to point you in the right direction should you become lost within the aladdin's cave of interesting artefacts and displays of natural history, science, technology, discoveries, art and industry and a plethora of additional long standing and visiting exhibitions and activities.
Interactive rooms which bring history and nature to life for children, plenty of informative talks and a light and welcoming atmosphere make this venue THE place to spend quality family time away from the pull of TVs and computers (well there are those too!)
A choice of cafes and bistros and a well thought out indoor picnic area allow extended hours of exploration – the youngest in our party found the glass-walled lifts an additional major attraction!
The crowning glory must be the rooftop terrace from where, quite literally, a panoramic view of the City and beyond is easily possible from the Museum's Old Town location – a sunny, clear day offering a 360 degree vista: Edinburgh Castle, Salisbury Crags, Arthurs Seat, New Town and beyond to Fife and all for free – what better way to spend a day or two in Edinburgh?