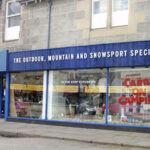 Nevis Sports promotes itself as the UK's premier outdoor sports store; an arduous task considering the vast competition in this field and additionally the array of online shops selling the same gear. Nevis Sports however, in my opinion, stands out from the crowd with regard to exceptional customer service and knowledgeable staff.
Having visited at least two of their outlets: Fort William and Aviemore, I have been more than impressed on both occasions by the extremely helpful, and unobtrusive staff members who are hugely experienced in their area and are eager to share their knowledge.
One particular kindly gent in Aviemore offered fantastic advice on walking shoes and specially designed insoles, taking the time to explain, with great interest the pros and cons of each and enthusiastically listening to my particular dilemma.
Although no shoes or insoles where purchased on that day (he recommended another supplier who I should speak to first prior to making a decision) I searched out another purchase within this shop – such was his honesty and helpfulness – not a bad sales tool; and perhaps one more shops should employ to gain the trust and patronage of potential customers.
Ten out of ten Nevis Sports!