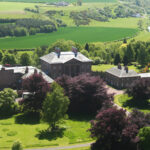 Regency Ball & Outdoor Theatre
Where better for a full costume Regency Ball than possibly the finest example of 18th century Palladian Country houses in Britain, and where more perfect than within the Picture Gallery at the aforementioned, Paxton House.
Stunningly beautiful, the neo-Palladian structure boasts original plasterwork, wallpapers and period furniture which remain in original room settings; paintings by Reynolds, Raeburn and Naysmith cover the walls of the fabulous Picture Gallery.
The main house hosts various events, tours and classical concerts; history relived and brought to life.
The extensive parkland gardens stretch down as far as the banks of the River Tweed and are home to wide-ranging species of birds and animals but also set the scene for yearly outdoor theatre productions, with Paxton House offering an authentic and very beautiful backdrop. Picnic blankets, cheese and wine; all very welcome and complete a wonderful Summer evening (weather permitting!).
No such requirement for the authentic Regency Ball within the splendid setting of the Picture Gallery; magnificent period costumes are donned and personal transformations take place as each guest assumes an alternative persona, dating back circa early 1800's, having mastered the dances of the era and the accompanying etiquette. A wonderful evening within a no less than perfect setting – Bravo!