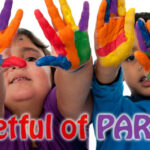 A successful first week, exceeding expectations, proves that the demand and even necessity exists, for Eyemouth's newest business addition; already demonstrating to have been a wise move for owners Sophie and Kerry.
PocketFul Kids provides daily fun activity and creative workshops for children of 12 years and under, within a safe, stimulating and formative environment, and, despite the distinct newness of its colourful interior, there is a clear feeling that it has always been there; testimony surely to fulfilling a previous gaping hole in the market.
Sitting in the harbour front area of the town, next door to the acclaimed Giacopazzis, Pocketful Kids is ideally placed for parents to combine an activity with an ice cream and a walk along the beach, presenting a welcome addition to the small fishing town which has suffered no less than others from recent economic downturns.
This inspiring business however, offers optimism, creativity and a new lease of life for the building in which it is housed, additionally accommodating the award winning style bar; Oblo, and providing an aesthetically pleasing addition to this corner of the old harbour area.
In addition to structured and innovative activities, PocketFul offer topical workshops, specifically aimed at varying age groups, storytelling and good, old-fashioned dressing up, making use of imaginative themes and always involving a great deal of fun.
A perfect place for interaction through play, creativity and learning; drama workshops are also being scheduled in the growing diary of events at Pocketful which is already fast becoming THE place to be for the under twelves from Eyemouth and beyond.
Traditional games, highly original books and pocket money toys complete the wonderland which is certain to grow and develop under the management of informed, enthusiastic and extremely welcoming hosts.