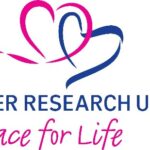 As always, RFL provided plenty of smiles, laughs and tears in equal measures as we, once again, joined Edinburgh's 10k around Holyrood Park and were rewarded with ideal weather conditions and plenty rousing support.
A sea of pink greeted our arrival, where we were immediately drawn in by the motivational atmosphere which pervades these events year on year. An en-masse warm up to invigorating music and encouragement throughout from willing helpers (with water), support teams and members of the general public who had happened upon the thousands of pink ladies running or walking around the tracks of Holyrood, all added to the feeling of being part of a team, with one main aim; raising awareness and money for Cancer Research.
Armed with our numbers and hearts in our mouths as we wrote out who we, personally were racing for and pinned it to our backs, we proceeded (slowly) over the start line and onwards and upwards. The heartfelt messages, some with photos of already lost loved ones, move the hardest of souls and powers you on through your quest, as hard as it may be for some, who undertake the day on crutches and in wheelchairs; what right do I have then, to complain about sore legs?!
Chatter and good humour drives the team forward within an overwhelming atmosphere of invincible support, capped upon reaching the finish line, where more volunteers welcome and congratulate each and every participant with a medal and Tesco sponsored goody bag.
Pride is still however the overpowering force which pervades these events around the country; a knowledge that each and every contribution, no matter how large or small, goes some way to finding a cure and hopefully….."together we will beat cancer"
www.raceforlife.org Race for Life is the UK's biggest women-only charity fundraising event. Enter your local 5k or 10k Race for Life event and walk, jog or run to help Cancer.