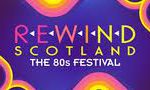 Nursing a croaky throat, sore legs and indelible fluorescent make-up, I am, this morning, back in 2011 following an unbeatable weekend at Scone Palace, Perth, revisiting the 80s.
The fantastic Rewind Festival made it possible for thousands from around the country to travel back in time and spend a few days reminiscing about a vibrant, albeit disastrous, fashion era and reveling in the music by bands who have been revived for the 1980s celebration.
A wholly family occasion and hysterically funny watching children of 80s parents trying to get to grips with 80s styles and music or with head stuck in a puzzle book, oblivious to the talent surrounding them, or even better iPods firmly in place, secure in the comfort of their own little 21st century world.
An impressive line-up over two days covering the musical diversities of the era; Kid Creole (and younger coconuts) to Go West; Billy Ocean to Toyah; Human League, who, undoubtedly stole the show on Sunday evening to my personal favourite (well it had to be) Nik Kershaw! Diverse and still extremely talented; these acts took to the stage, twenty years on and produced the most fantastic performances to an extremely rapturous and appreciative audience.
Although the main focus of the event was the music, numerous side stalls, champagne bars, circus entertainers, fireworks and fairground rides also provided a welcome presence; beautiful sunny warm weather and the stunning backdrop of Scone Palace added that special ingredient to the mix.
Rewind now continues to Henley for the English event, however I fail to see how the experience in Scotland could be bettered – scenery, weather, attractions, transported to another era through fantastic memory jogging music and a brilliantly appreciative crowd – SCOTLAND ROCKED!