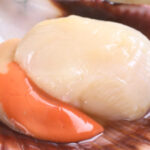 The aptly named seafood restaurant on Oban's foreshore is so, as it worships local, fresh seafood, newly docked in Oban, and so do it's patrons.
Living studiously by their ethos of "fresh and local", the Seafood Temple could be nothing but a great success and, that it has been since it's opening in 2011, is a testament to the skills of owner/chef Eilidh Smith.
My surprise upon arriving, that the Temple is so small, was quickly assuaged by bright, extremely friendly and warm waiting staff showing me to my high seat at a communal table. I quite quickly imagined what the diners would look like from the bay side of the glass as all faces are agog at the fabulous view of the water and the island of Kerrera, plus a plethora of fishing and leisure boats and of course the CalMac ferries!
For me, travelling on my own, the Temple's dining arrangement was a joy as conversations were quickly struck up with an Australian couple on one side and a lady and her son on the other; I felt immensely patriotic and boastful of the view beyond the picture window to my international dining companions.
Mirrors on the back wall ensure every guest benefits from the vista and more intimate tables at the front cater for parties of two-four. I wonder if anyone actually looks at their dinner date in here however, so captivating is the scene outside.
Small appetisers form part of the dining experience at the Seafood Temple and a promise of more to come, freshly hauled from the waters a stone's throw from the door.
Working on a simple premise of fresh seafood, correctly and expertly cooked and presented well to an already converted audience has worked superbly for the Seafood Temple; no fuss, complications or elaborate menus, but simply worded specials, changing daily and a synchronised wine list – perfect!