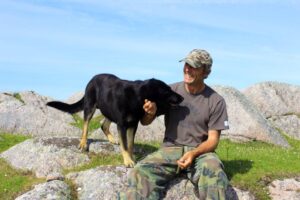 "A life changing experience and one I shall never forget" sums up Wayne Hall's wild camping adventure for charity and marks the end of his six months in Scotland.
Having unexpectedly found himself homeless, self-employed Wayne decided to take time out of the rat race and not just quietly sympathise with those who find themselves in the same position, but take action and raise money for Shelter, the UK's leading homeless charity. Starting in February of this year, the harsh Scottish elements were not going to be the smallest of challenges to face.
Several weeks of round the clock working to raise money to fund the trip and some intensive planning later, Wayne packed a van full of essentials and, prior to his departure for the remotest reaches of Scotland, set up his Shelter donation page. Accompanied by his loyal companion of the German Shepherd variety; Jerry; who would ensure he was never completely alone on his Scottish adventure; Wayne set off for Scotland from his Cheshire base, on a 6 month challenge, raising awareness and money and keeping an insightful, entertaining, informative and at times, heart wrenching account of his journey through the most remote corners of Scotland.
A love of the wilds of Scotland made the destination choice an easy one and Wayne used the time and freedom the country afforded him, to full advantage, keeping an online journal and taking some stunning photos of the far flung and lesser known places in which he found himself. Building up a large and loyal following via Facebook and Twitter, Wayne has managed to meet up with some of his fans along the way, who have helped spread the word and donated cash to the worthwhile cause.
On being asked of the highlights of his trip, Wayne responds: "Countless. The sunsets, the solitude on Isle Martin, the lovely people we've met, the nature and scenery, the deer, otters and bird life and of course real quality time with my dog. To be honest, every day was a highlight"
This does not mean however that his expedition was without certain trials; Wayne recounts his low moments of being struck with chronic toothache whilst on a remote westerly island, Scottish storms, through the harsh Winter months, fully testing out his tent and equipment and Scotland's renowned midge, presenting a lesser, albeit extremely persistent problem. Weight loss has been an unsurprising side issue for Wayne and his worries over Jerry's health and wellbeing, mentioned as some of the low moments, but still, memories which he now looks back on with an encompassing fondness as mementoes of his adventure.
No-one following his blogs could fail to be moved by Wayne's recounting of his companion's strifes: "Jerry has been priceless. We've been through a lot together on this trip & there have been times where we've both struggled but having each other made all the difference."
His experience of Scotland's vast wildlife and beautiful landscapes shall call him back again but having almost reached his target of £5000.00, Wayne and Jerry are returning home satisfied, humbled, thinner, extremely proud and with no imminent plans to repeat the wild camping experience.
Immediate plans are to start earning again, although, following an eye-opening experience: "I couldn't be away from this kind of environment for long as I've fallen rather heavily for the great outdoors"
Tales and images of Wayne and Jerry's "6 months in Scotland" and locations visited can be found on:
F: www.facebook.com/6monthsinscotland
T: @6mthsinscotland
Donation page: http://www.justgiving.com/sixmonthsinscotland
Shelter
Charity Registration No. 263710
Shelter works to alleviate the distress caused by homelessness and bad housing. We help people find and keep a home. We campaign for decent housing for all. Our work won't stop until there's a home for everyone.