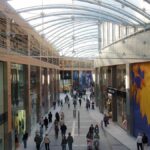 An unexpected revelation in Livingston is The Centre, one truly heavenly experience for retail addicts and not too far from Edinburgh, making it a viable alternative to city centre shopping.
Expansive and housing all the major retail names as well as some smaller boutiques, The Centre is all undercover, although within the most recent addition of Elements Square, which is extremely light and airy incorporating a glass roof and many tropical plants and walkways, the atmosphere is more akin to a Mediterranean shopping village.
The fabulous designer outlet shops offer an inviting, open-plan design, relaxed and informal shopping where a personal styling service is also available – an affordable luxury or a unique gift.
A vast choice of coffee shops, restaurants and eateries are open throughout the centre, although The Wintergarden, an unexpectedly exotic backdrop, perched high above Elements Square, with a light and airy ambience offers the chance to sit back and relax and enjoy the fine foods on offer.
Similarly, a wide range of bars and restaurants are located just outside, on the The Avenue, where food and fine wines can be enjoyed into late evening within one convivial atmosphere.
All this AND free parking until 2011; this has to provide some pretty strong competition for city centre shopping.