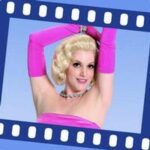 The superbly named "Reel to Real" sees a cast of ten incorporate a wonderfully humorous, family tale, very cleverly performed, alongside classic clips of golden oldies from Warner and MGM.
Revolving around two central characters; a brother and sister, battling for their father's movie empire inheritance, the interaction between the actors on stage and the projected movie clips is both fascinating and wonderfully original, performed with absolute attention to timing.
Well chosen clips to match in with the fast moving storyline are witty and a joy, seeing the story move swiftly from country to country, following two parallel love stories with suitably apt recognisable numbers from greats such as "South Pacific" and "Singing in the Rain".
An enraptured, buoyed-up audience left the auditorium at the Pleasance ready to sign up for the nearest tap dancing lessons! Fantastic!