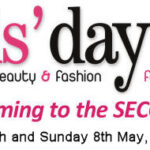 A "Girls Day Out"…..shopping, lunch, beauty treatments, chatter and ample champagne perhaps? Imagine all of the stereotypical traits of a great GDO rolled into one and there you have it – the "Girls Day Out 2011" at the SECC Glasgow.
Offering the added attraction of all being under one roof, the annual GDO epitomises girly fun in one large, albeit very noisy, location.
Organised in conjunction with Scotland's women's glossy magazine, "No 1", 2011 sees the third GDO with an expected crowd of 20000 women descending on the Exhibition Centre to revel in Scottish lifestyle, health, beauty and fitness companies' wares.
And so it began at Central Station, Glasgow as throngs of excitable women clambered aboard the apparently inexhaustible capacities of the train heading to the SECC – no man in his right mind would dare to be on platform 7 THAT day, or any of the three days the show in fact runs for!
Cue queues, goody bags, products, samples, cocktails, fashion shows, cookery demos and naked waiters….yes, well apart from a minuscule apron to offer some modicum of modesty, Bare Bum Butlers!
A fun and lighthearted day presenting a welcome opportunity to delight in being female and revel in the discounted make-up, perfume, jewellery and beauty treatments on offer, without any male interference (with the exception of the…did I mention… naked…waiters!)
Clambering with aching feet onto the return train, our party left, tanned, made-up, with stunning hair and perfect nails, smelling beautiful and virtually unrecognisable -truly satisfied that this was the best Girls' Day Out ever!