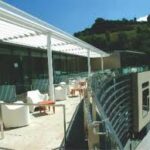 The 150 year old façade belies the interior of this wonderfully voguish hotel within Scotland's capital; rather apt, with a central location midway between Edinburgh's historic Old Town and elegant New Town.
A unique frontage; the only residual structure of the old Lady Glenorchy Church; introduces a simply beautiful and vast interior.
Caught somewhere between Alice in Wonderland and Doctor Who, the surprise inside is unbelievably tardis like; the corridors open up to more and more and even more space; the rooms, suites and public areas are expansive, bright and roomy and are not unnecessarily cluttered, maintaining a uniform contemporariness throughout.
The use of glass, as the name would suggest is extensive and fitting to this boutique hotel, adding to the clean cut lines and modernity of the interior and taking full advantage of the wonderful city skyline with floor to ceiling windows. No-one misses out here – all rooms are located on 3rd floor level – a choice of exceptional views over the city and a fabulously extensive balcony, or a rooftop terrace with immaculately maintained gardens and a panorama of Edinburgh and the coast beyond. Each room feels like the penthouse suite, with a unique and justified use of outdoor space making the Glasshouse a truly individual experience.
Achieving a welcoming ambience can sometimes remain elusive within a minimalist environment; not so, however, at the Glasshouse. For me, the comfort factor faltered not once, feeling instantly settled, probably due to the provision of each and every necessity and considered touches, within a beautiful suite.
Again, no extraneous additions spoil the sleek lines, but practical, useful and necessary items, all congenial in facilitating an even more relaxed, stress-free stay.
I particularly enjoyed the small but surprisingly gratifying light which lit up the wardrobe upon opening, a particularly comfortable dressing area, a television which could be watched from the bedroom or living area, the music system and collection of books and current magazines – thoughtful and welcome additions.
The team at the Glasshouse are worth a special mention; welcoming, relaxed, friendly and obliging; recognizing the utter importance of good customer service and exceeding in their task.
A thoroughly enjoyable experience and surprising discovery; my only regret…? With a night out planned, not enough time to revel in the room and enjoy the ever happening city landscape from the balcony. Next time at the Glasshouse, I'll check in for a night in.
www.theetoncollection.co.uk/Glasshouse