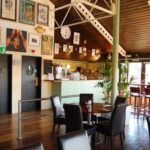 Perhaps politically and geographically, somewhat incorrect in that this particular feature is based around a restaurant which is in Berwick-upon-Tweed which, as we speak today, lies on the English side of the Border; therefore, not in Scotland. That aside however, as being only around 9 miles south of the Border and featuring a good quantity of Scottish sourced produce, with fresh fish from Eyemouth, the Maltings Kitchen falls into the "borderline" category (geographically speaking only!).
This relaxed and dynamic eatery pulls people in from both sides of the Border, being a refreshingly upbeat dining experience and an authentic authority on wines worldwide.
A somewhat hidden location within the local Arts Theatre, the Maltings could easily be overlooked searching for a haven for a bistro type lunch or a relaxed dinner; but once visited, never forgotten as time after time, David Foxton and his team humbly serve some of the finest cuisine; simple in nature but perfectly prepared and presented and of course, cooked to absolute perfection.
Views over the Tweed and the historic walls of the town, where, historically, many bloody battles have been fought; tables afford full height scenes of the town and beyond, to be relished with a glass of any one of the expertly recommended wines and a bowl of olives, accompanied by relaxed and welcoming banter.
Easy thereafter to wander down to the stage, where many, greatly acclaimed shows now appear, alongside a well established and expertly presented local dramatics group.
An intimately traditional theatre, yet vibrant, light, contemporary restaurant; the mix works well and blending together the old and the new, presents a wonderfully enjoyable experience.