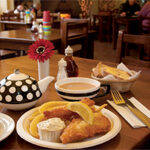 An unbelievable little find in Tyndrum's busy main street is The Real Food Cafe; an unassuming little building, not externally attractive, but what a find!
A fish and chip shop with a difference, the Real Food Cafe, promotes locally sourced good food and exceptional service, backed up with a strong business ethic and a true belief in their product.
A hugely varying menu of meals, prepared whilst you watch and enjoyed, not in luxurious surroundings but warmly welcoming, comfortable and one of the friendliest I have encountered. Long, rustic wooden benches aid the ambience of sharing; a roaring fire and comfy couches, all the while being encompassed by homemade cakes of every persuasion and the constant friendly chatter of those who so obviously love their work as much as the building which houses this establishment.
A well priced and hugely varying menu with special consideration for dietary requirements contributes to their passionately ethical outlook and genuine care with regard to what is served.
Do not miss the Real Food Cafe when passing through or near Tyndrum; definitely worth a detour!