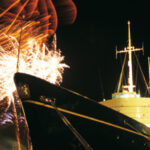 Welcomed aboard the Royal Yacht Britannia, which has found a final home in Edinburgh's port of Leith, we were immediately struck by the warm and friendly reception we received onboard, the once home to Her Majesty The Queen and the Royal Family.
A remarkably open and frank account of her history with the Royal Family, the visit to the Royal Yacht Britannia opens up an intriguing insight into the Queen's life whilst onboard.
Guided through each area in turn, at leisure, an informative narration is listened to via personal handsets, offering time to absorb the history within each room and wonder at the little personal objects, left behind by the Royal Family.
Further learning of the actual workings of the ship, the staff quarters and much of the "behind the scenes" activity is apparent further on into the tour, which is equally informative and impressive.
A wonderful day out, perfectly suited to all members of the family and an ideal opportunity to partake in an active history lesson – truly magical.